Rosemary held a Macmillan coffee morning on the 14 th September,in our local hall with the help of friends and family we had an amazing morning. Wonderful raffle prizes kindly donated by local pubs, shops and businesses so so much appreciated, all the fantastic cakes and sandwiches, brilliant nothing wasted because Goostrey beavers which two of my grandsons attend were having an overnight camp, so any cakes were well received, with a kind donation thank you again beavers. Or I should say mums.
We raised an amazing sum, over £2000, well done again to all who helped and supported this worthy cause.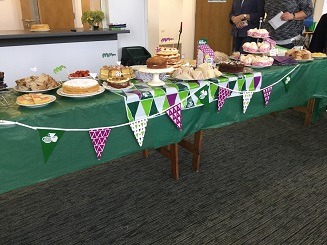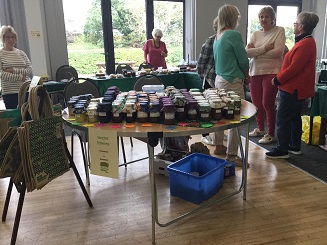 Details

Written by

MikeT

Category: Events
Hits: 5182
 Well over twenty of us went on the walk which took us through the park at Over Peover to visit the church of St Laurence. The weather was not wonderful but neither was it foul. The thought of the sandwiches and chips that were waiting at the pub sustained us.
The church proved to be an historical gem - parts date back to the 1400s.
The US flag, the Stars and Stripes, was presented by General Patton during the second world war. There was only one other presented to a church in Britain - the flag only has 48 stars as at the time Hawaii and Alaska had not joined the union.    
 An ever present reminder of mortality hung on the wall with cautionary verse below. The poor chap looked like he needed to come to the pub with us for a good feed.
The sandwiches and chips were spot on - our thanks to the Parkgate Inn in Over Peover. The company was quite good too.
Details

Written by

MikeT

Category: Events
Hits: 10462
Many thanks to Marilyn for organising the Autumn Fayre and, of course, all who manned stalls and provided excellent mulled wine and mince pies. It went well! One and a half hours of frenzied activity! The generosity and enthusiasm of Chelford folk is never to be underestimated.
The queue for the Tombola never seemed to end. 
| | | |
| --- | --- | --- |
| | | |
|   | | |
Nov 15
Details

Written by

MikeT

Category: Events
Hits: 7357